Maxlength is a cool module that allows you to set maximum character limits for your Drupal form text fields. Not only that users who fill in these forms can see the maximum number of characters they can write but they will also be prevented from writing more than they should.
It's actually a very useful module for websites with a lot of content and contributors. News websites come to mind where certain text fields need to have a maximum character length in order to fit in designated areas around the site. It then reduces the efforts of editors who have to shorten news pieces.
Maxlength uses Javascript to dynamically show how many characters are left for users to write in the text box - kinda like with text messaging - which is very cool. But it's also easy to set up for admins. After you install and enable it like a normal module, you'll see that editing any textfield on a content type (apart from the default title field) you get some new options.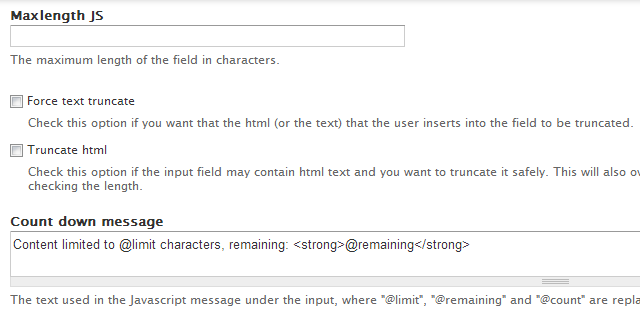 The most important one is setting the maximum number of characters a user is allowed to fill in the textfield. Then you can also set the message displayed to the user as the character count goes down, which is pretty cool. Additionally, you can set it so that html tags do not constitute characters that add up this count - which makes sense and allows for safe html truncating.
Give it a shot and see how it works. The issue queue is quite extensive for this module to check it out if you run into trouble.
Some related articles you might enjoy